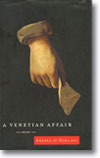 "I'd like to say that A Venetian Affair is the
best novel I've read in years - it's almost as good as
Les Liaisons Dangereuses - except that it
happens to be true. Andrea di Robilant's story of
Andrea Memmo and Giustiniana Wynne is so
immediate, vivid, and powerful that it takes you
inside the minds and, indeed, the bodies of its two
passionate protagonists. And this, ineighteenth-century Venice, is an unforgettable place to be."
—Simon Schama

"Andrea di Robilant brilliantly evokes Venice
in the age of Casanova—masked balls,
elegant salons, louche casinos, and social, political,
and romantic intrigue. A Venetian Affair
is luminous, erotic, and utterly spellbinding."
—John Berendt, author of Midnight in the
Garden of Good and Evil

"A Venetian Affair is an enchantment.
Andrea di Robilant hasn't just brought a splendid
Venetian love affair to life, he has brought
eighteenth century Europe to life, both intimately
and grandly. This is narrative history
at its very best." —John Casey
A Venetian Affair

The New York Times
"The contradictions, complications and inscrutabilities encompassed by Andrea di
Robilant in his new book,
A Venetian Affair
, are so wonderfully numerous that the plot
at its heart very nearly defies summary ..."
Times Literary Supplement
"Supple and elegant a stylist as he is, di Robilant never allows his own enjoyment in
unfolding this long-hidden narrative to upstage the raw drama of the correspondence
forming its backbone. he is entirely at home with the world of the period ... The whole
passionate correspondence, to which
A Venetian Affair
presents such a finely balanced
introduction,is a thrilling addition to the corpus of eighteenth century letter-writing."
The Financial Times
"A full-on, rollicking costume drama...The letters reveal fascinating day-to-day detail about
life in eighteenth century Venice, and in particular the elaborate codes of society ... Andrea
di Robilant has sleuthed out the story behind the letters with skill, weaving together a
highly enjoyable narrative."
Mail on Sunday
"Brilliant ... Like all the sexiest love affairs, theirs is strictly forbidden. So full of twists
and turns that you have to keep reminding yourself that it actually happened."

The Library Journal
"Serialized in The New Yorker, this romantic tale of mid-18th-century Venice
purports to tell the story-using actual correspondence-of the seven-year affair between
Andrea Memmo, scion of one of Venice's 12 patrician families, and beautiful, alluring
GiustinianaWynne ... "
Daily Telegraph
"An enthralling love story...The letters reveal all the excitement of a clandestine relationship...
Passion has seldom seemed so intense." –Miranda Seymour
Publishers Weekly
"The genesis of this engaging book was a stash of letters the author's father found in the
old family palazzo in Venice. Written in the mid-1700s by his ancestor, Andrea Memmo,
scion of an ancient Venetian family, to Giustiniana Wynne, the illegitimate daughter
of a British father and a Venetian mother ... "